6, May 2011 | Published : Tools |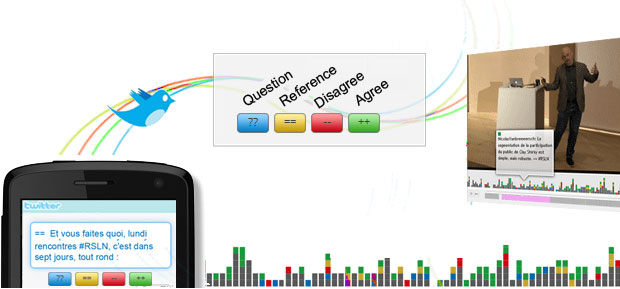 The Web becomes largely audiovisual, in this context how to expose these contents with metadata synchronized to the AV stream? How to bring search engines results onto precise AV segments instead on a global audio or video program? How to share time-based favorites on social networks? This rely partly on the evolution of web standards (HTML5, W3C media fragments, …) but above all on our capacity to index and annotate audiovisual content in the streams.
Today, three methods can be implemented alone or in combination:
Manual human annotation which is expensive,
Automatic indexing (like speech to text) which generates a lot of noise and requires tricky filtering,
And finally social-based annotation.
IRI bets on this last method by proposing Polemic Tweet, a system which allows live event followers to twitt bearing an engaged position in reaction to live or recorded talks and media programs, and consequently to be able to visualize this polemic thread synchronized to the recorded event.
In order to participate in a Polemic tweet, a dedicated Twitter page, but any other Twitter client can manage. On the dedicated Polemic Tweet page the event HashTag is already inserted in the text window and then, using a set of color buttons, it is possible to step into the polemic space:
If you use your own twitter client be it on the web or on your mobile just add by your own the event hashtag and the appropriate syntax (–, ++, ??, ==).
Right after the conference, Polemic Tweet offers new navigation options through a time-based data visualization of all tweets, not only semantic (or keyword based) but polemic based. You can immediately browse onto the "hot spots" of the debate.
Clay Shirky : « Personne n'est titulaire du code source de la démocratie » from RSLNon Polemical Tweet.