29, June 2011 | Published : Events, Futur en Seine 2011 |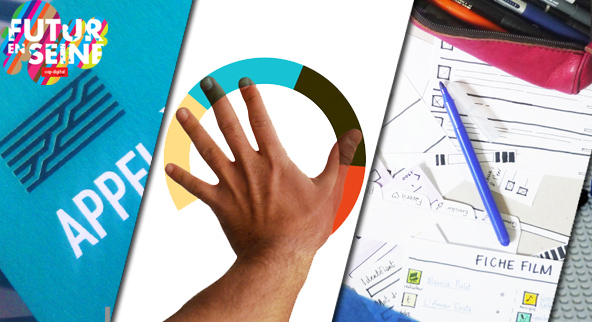 _
Within the Futur en Seine Festival, Iri and its partners gathered in the Salle Piazza of the Centre Pompidou from June 18th to 22th. Several prototypes and drafts of interfaces designed by design and engineering students were presented (Ensci, Esilv, Strate College) and industrial partners (Eureva, Blinkster, Musetrek). The Centre Pompidou has also presented two parts of its forthcoming digital ecosystem within the Virtual Centre Pompidou project (VCP) and the display of Blinkster in its areas.
All these works explore the question of metadata for indexation, browsing and digital content enhancing.
Four event took place during the festival:
– DESIGN METADATA 1 : Saturday, June 18th :: 17h-20h
Presentation of prototypes by the designers to the large public.
– FABLAB CONFERENCE : Monday, June 20th :: 17h-20h
Which tools for amateurs in the fablabs context?
– DESIGN METADATA 2 : Tuesday, June 21st :: 17h-20h
Presentation of prototypes by the designers to professionals and amateurs.
– BLINKSTER ET VPC EXPERIMENTATION: Wednesday, June 22nd :: 18h
Presentation of the forthcoming website of the Centre Pompidou (call for beta-test) and presentation of the Blinkster project with in-situ experimentation.